NELTEX SHOWCASES THE BEST WAY TO 'RELAX' AT THE PHILWATER 2015

November 03, 2015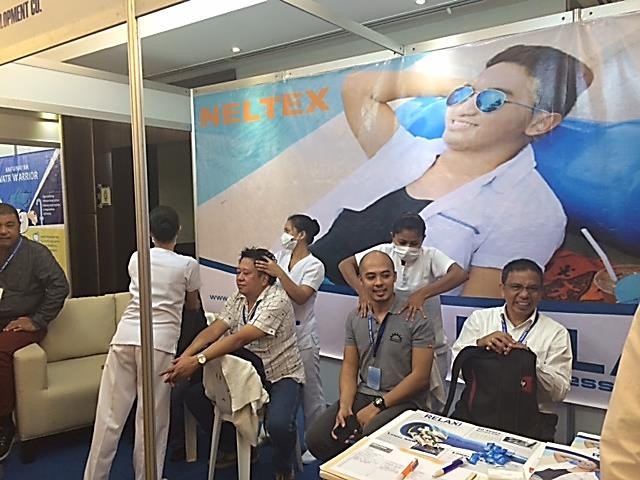 Comfortably seated guests and attentive masseuses treating them to a free massage –such was the scene at the Neltex booth at the recently concluded 23rd PWWA International Conference and Exhibition dubbed as "Philwater 2015". The event was held at the Limketkai Luxe Hotel in Cagayan de Oro City from October 21-24, 2015, and was attended by representatives from various government agencies, Water Districts and other attached agencies, Consultants, Contractors, Manufacturers/Suppliers, Well Drillers and other professionals.
Although many were surprised with the unique showcase of the country's biggest PVC manufacturing company, attendees still gathered at the booth to try the relaxing treat, which Neltex representatives explained is one of the benefits of using Neltex products.
"Our message is simple: by using Neltex's quality and innovative products, we can assure our stakeholders that they can relax and focus on the more important things," says Ms. Marites Tan, Assistant Vice President for Sales and Marketing of Neltex.
True to the conference's theme of "enhanc[ing] every delegate's knowledge on current issues and cutting-edge innovations available for water supply development," Neltex showcase how their Pressureline pipes with Machine-installed fixed seal can offer sustainable solution to non-revenue water and lessen capital and operational expense of water distributors. Neltex pipes are also the only ones in the country that are heavy-metal free (with no mercury, lead, cadmium, and arsenic); hence, it is also guaranteed safe for humans and the environment.
These guarantees of product quality and safety are what will ultimately make it possible for water districts, government agencies, consultants and contractors to relax for at least 50 years.