NELTEX Champions Heavy Metal Free Pipe and Other PVC Innovations at PSSE Convention

May 14, 2016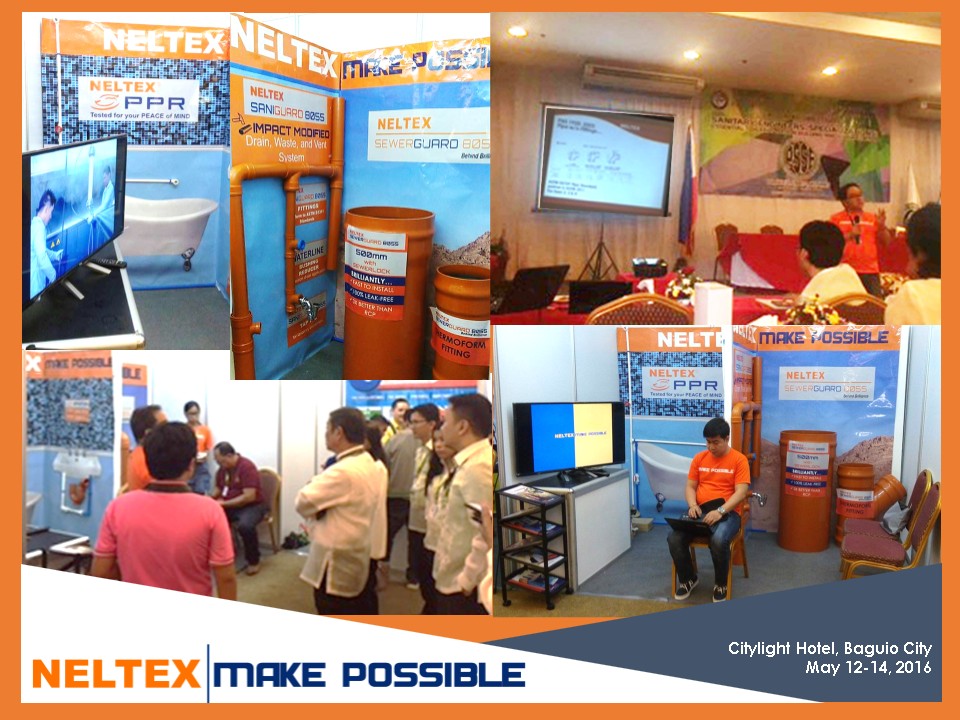 Hundreds of practicing Sanitary Engineers, students, professors, and some household names in the field of plumbing and sanitation gathered at the Citylight Hotel Baguio last May 12 to 14, 2016 for the Midyear Convention organized by the Philippine Society of Sanitary Engineers, Inc. (PSSE). Joining them as one of the event sponsors and exhibitors is NELTEX Development Company, Inc. (NELTEX) whose booth display of its various piping innovations drew crowds of curious delegates.
NELTEX lives up to its title of being a Plastic Pipe Authority in the Philippines as it boasts of producing the largest diameter sewer pipe in the country, spearheading the thermoforming technology for PVC Fittings, its 30, 000 MT heavy metal free pipe production capacity, and its top notch testing for the only heavy metal free PPR pipes in the Philippine market through its exhibit.
For its technical product presentation, Neltex's Project Development Officer Robert D. Baleros highlighted Neltex's heavy metal free advantage especially for conveyance of potable water. "By using organic based stabilizers in our PVC production, NELTEX is able to produce pipes that are 10 times safer than any other brands, complying with and even exceeding the Lead content standards set by the World Health Organization and the National Sanitation Foundation," Mr. Baleros explained.
He also discussed the use of SDR 34 PVC pipe alternative to reinforced concrete for sewer systems and storm drains and other possible areas for improvements on existing local standards to meet global standards.
Neltex has been a consistent supporter of PSSE, joining the organization in its various initiatives and events where product innovations, industry news, and relevant policies and practices upgrades are shared. Thus, its participation in this year's midyear convention is a reiteration of its commitment to MAKING safe and sustainable construction POSSIBLE.