NELTEX Hailed as Dependable Infrastructure Partner with Specialized, Impact-Modified PVC Pipes for NLEX and NAIAx

April 03, 2017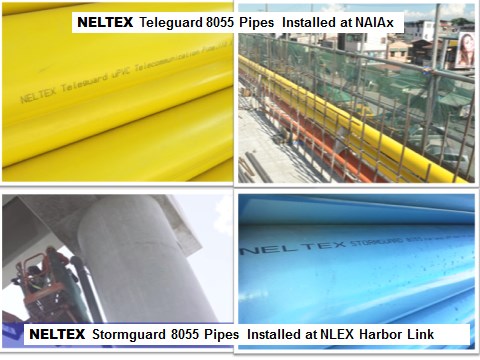 Two of the country's most notable infrastructure projects—the P10.5B NLEX Harbor Link Segment 10 of Manila North Tollways Corporation (MNTC) and the NAIA Expressway (NAIAx) are the newest additions to Infrastructure projects utilizing Neltex's impact-modified PVC electrical and drainage pipes. Neltex,
Southeast Asia's largest single site PVC manufacturer, was selected to supply the specially-colored PVC pipe requirement of these flagship projects. Neltex Teleguard 8055 was used for telecommunication lines installed in NAIAx while Neltex Stormguard 8055 pipes were installed at the NLEX Harbor Link Project of MNTC.
Neltex Teleguard 8055 Guards Telecommunication Lines at NAIAx
When DMCI, San Miguel Corporation's contractor for the 4-lane, 7.75 km elevated expressway NAIAx needed yellow-colored electrical pipe encasement to distinguish the telecommunication lines from the electrical conduits that will run through the expressway, NELTEX immediately responded to their need with the Teleguard 8055 PVC conduits.
"It is more than a pleasure to serve DMCI and be part of the NAIAx project. Thankfully, we have just expanded our pipe production at our new plant in FCIE Cavite, and our fully-automated production made it possible to accommodate their special requirements" says Mr. Jun R. Reyes, Project Sales Manager of NELTEX.
The NAIAx which provides easier access to NAIA Terminal and interconnects the South Luzon Expressway (SLEX)-Skyway to the Cavitex, Macapagal Boulevard, and the Entertainment City of state-run Philippine Amusement and Gaming Corporation opened to the public late last year.
Neltex Stormguard 8055 Innovates NLEX Harbor Link Drainage System
The NLEX Harbor Link was once hailed as an "engineering marvel" for using the most advanced technology, such as Gantry cranes, pre-cast girders, and powerful girder launcher for its construction. So, it is no surprise that the Manila North Tollways Corporation also opted for an innovative piping solution for the 5.65-kilometer elevated expressway.
"Neltex Stormguard 8055 pipes are lighter and easier to install, yet its smooth surface make it at least twice more efficient than concrete in terms of drainage flow rate" shares Mr. Reyes. For MNTC, this ease of installation will significantly help them meet their target date for completion of the NLEX Harbor Link. Neltex also ensured that the Stormguard 8055 pipe it supplied do not only meet MNTC's gray-color pipe requirement; its impact-modified formulation also guarantees that the PVC pipes will be able to withstand the toughest job site conditions with its above –standard quality and material integrity.
"Neltex was ultimately chosen after a thorough specification review process and product testing and evaluation. And so far, we are happy with their service" notes Mr Romel C. Langcauon, Quality Control Managing Consultant of MNTC.