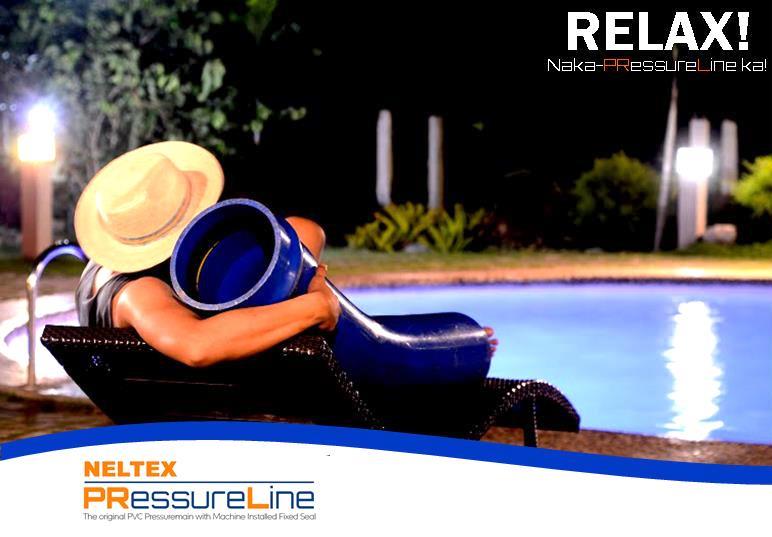 Pressureline
NELTEX PRESSURELINE is the First and Original PVC Pressure Main Pipe with a Machine-Installed Fixed Seal.
Lower NRW with Pressureline's Machine-Installed Fixed Seal
The weakest point of every water distribution system is its joints. Loose Gasket systems, wherein gaskets are installed on-site, contribute to this weakness as dirt and dusts tend to lodge themselves between the gasket and the joints. This causes leaks which in turn leads to NRW (Non-Revenue Water) or system loss for utilities.
To address this concern, NELTEX has advocated the use of the integral fixed seal concept to its PRESSURELINE pipes. This means that the socket and gaskets are formed in the shop floor, ensuring a perfect joint. This procedure ensures that there are no dust and dirt lodged between the pipe and gasket, thus leading to a superior joint.
Safer Water with Heavy-Metal Free Quality
It is also the first and only pipe that uses HMF (Heavy-Metal Free) stabilizers guaranteeing zero toxicity from Heavy Metals such as Lead, Cadmium, Mercury and Tin.
It is well-documented that heavy Metals such as Lead leads to morbidity and mortality factors in both young and old. As such, NELTEX has gone to extreme measures to go beyond ISO 1452, shying away from the "acceptable lead" content in PVC to a totally HMF stabilized lead.
50 Years Service Life Guaranteed
NELTEX PRESSURELINE is also guaranteed to meet the 50 year design life as specified by ISO 1452.
Neltex Pressureline Piping System
NELTEX Pressureline Piping System consist of Powerlock Series 8 (Class 150) and Series 10 (Class 100) used for water distribution main system and Socket Type Series 8 (Class 150) used for deep well casing. The Powerlock is available in convenient sizes from 63mm to 315mm nominal diameters with an effective length of 6 meters.
Design and Function:
The Powerlock System is a sealing system for PVC pressure main systems. The two-component built-in seal design consists of a flexible EPDM rubber element to effectively seal against spigot and socket, and a reinforcing polypropylene (PP) element bonded to the rubber element to hold the seal in the correct position and firmly in place.
The seal is equally effective under both positive and negative pipe pressure. The reinforcing element prevents the seal from "rocking" in its groove for constant positive sealing force. Under vacuum, the seal maintains the positive sealing force against the front of the groove to prevent sand, soil and other serious contaminants from entering. Under positive pressure, the sealing force also increases as pressure increases.
Features and Benefits:
Made from 90% K65 virgin resins for superior products at the highest quality.

With machine installed fixed seal technology for contamination-free, and leak-free systems ensuring clean, safe drinking water.

Lead-free pipes and fittings; non-toxic formulation.

Hydrostatically designed for 50 years

Special homogenously bonded EPDM and PP rubber seal

Free from contamination with its inherent precise sealing technology, thereby assuring tasteless and odorless safe water supply.