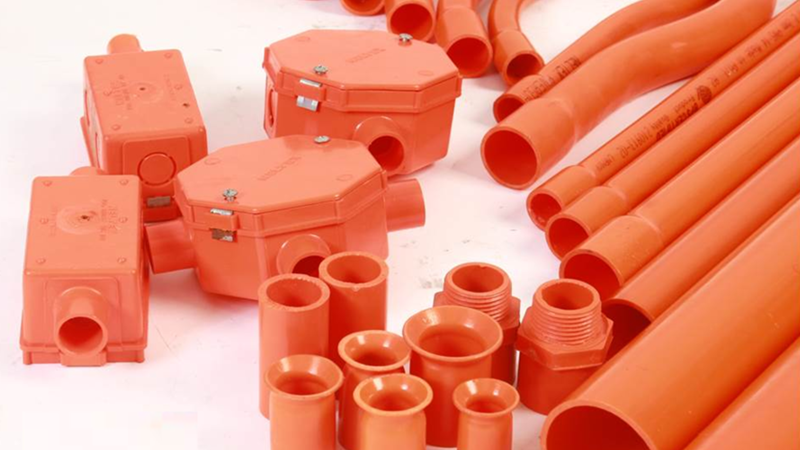 NELTEX Powerguard 8055 is comprised of 20mm to 110mm PVC electrical conduits and fittings that are made with K65 virgin PVC resin, impact modifiers, and organic based stabilizer to ensure superior durability, quality, and non-toxicity.
Impact-Modified 8055 Advantage
The "8055" in the Neltex Powerguard 8055 brand name is derived from its toughness properties: 80 IZOD Impact Joules and 50 MPa that is well beyond the PNS 14: 1983 Standards for PVC electrical conduits (see table below).
PNS 14: 1983 Standards

NELTEX POWERGUARD 8055

IZOD Impact Strength

34.7 Joules

80 Joules

Tensile Strength

27.5 MPa (low rise)

48.5 (High rise)

55 MPa

Flattening

No breaking at 40%

NO BREAKING at 100%

Vicat softening temperature, °C, min.

76 °C min.

85.5 °C
They also undergo a series of product testing for its burning resistance and self-extinguishing properties and water absorption to ensure that wirings encased in Neltex Powerguard 8055 PVC pipes and fittings are well protected. You may check out Neltex Powerguard 8055 Test certificates to learn more about its beyond standard quality.
Impact-Modified, K65 Virgin PVC Fittings
Similarly, Neltex Powerguard 8055 fittings are also made with the same K65 Virgin PVC resin, impact modifiers, and organic based stabilizers so you can expect them to be as tough as the Neltex Powerguard 8055 PVC electrical pipes.
NELTEX POWERGUARD PVC Electric Boxes Product Design Advantage